Almond oil is produced from the fruits of Almond tree. They come in two varieties: sweet and bitter. Stones of sweet almod contain 14%-16% of fats and the nuclei of these fruit 46%-50% whereas bitter almonds contain respectively 12%-14% and 55%-60% of fats. Moreover, the fruit are rich in proteins, carbohydrates, fibre, minerals and vitamins. Sweet almonds can be eaten raw and they are added to cakes, chocolates, ice-cream and almod paste. Bitter almonds are used for aromatization of sweet products.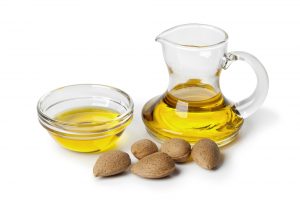 Almond oil is extracted from sweet and bitter almonds. It's worth remembering that bitter almond oil should be pressed at temperature below 30°C. Why? It's because almond fruits contain a toxic substance which in the above mentioned temperature doesn't get into the oil. It is rectified instead. The product belongs to the group of semi-drying or drying oils. It has dense consistency, light yellow colour and mild taste. It is poorly soluble in water and alcohols; it is regarded to be a less stable oil. However, it contains lots of essential unsaturated fatty acids (UFA).
Almond oil is a common ingredient of coloured and conditioning cosmetics. It offers strong moisturizing and restoring properties. It strengthens protective lipid barrier of epidermis, bonds intercellular junctions, rebuilds damaged skin. Due to high dose of vitamin E, called the vitamin of youth, almond oil hinders ageing processes, smooths wrinkles, firms and lightens discolouration. It also smooths fine lines around the eyes, normalizes colouration of the face skin and improves general condition of the skin. It protects from UV radiation, extreme temperatures and impurities from external environment. The oil alleviates irritation, soothes skin inflammation, helps to fight acne and other dermatological conditions of the body or face skin.
Almond oil is also used in hair and scalp care. It is sometimes used in the treatment of dandruff, psoriasis and eczema. It will tackle both dry strands and improper work of sebaceous glands. It restores damaged hair ends, rebuilds hair damaged beacuse of styling treatments, strengthens hair bulbs and follicles. Besides, almond oil tames unruly strands and makes hair smooth and shiny. It makes brushing easier and helps with blow-drying. It protects from the effects of some substances included in washing products e.g. SLS in shampoos, ammonia in hair dyes, mineral oils in conditioners. Warm the oil up in your hands before the application. Then, apply it to ends, entire length of hair or scalp. To enhance the effect, you can put on a foil hat or towel. After more or less 15 minutes wash the oil away with a delicate shampoo.